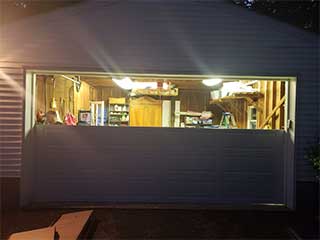 Being able to rely on your garage door is very important, not just for the sake of convenience, but for safety reasons as well. When a problem arises, you need to ensure that it is solved not only quickly, but effectively too, to ensure that it truly is fixed and won't return, at least not anytime soon. To achieve this, you need to have professionals handle the required repairs.
Bent Track Repair
You may find that your door is struggling to move up and down due to some problems with its tracks. These hardware parts guide the movement of the panels, and if they become blocked or bent they'll keep the rollers from moving and may even cause them to pop out. Our experts have the experience and the technical skills to fix problem with the tracks and to ensure that your door can move without any interruptions.
Broken Spring Replacement
This type of problem is unfortunately one of the most common ones that can occur. Because the springs are under a lot of tension on pretty much a daily basis, they will eventually break, at which point your garage door will be impossible to open. Seeing as these units need to be able to withstand a lot of tension, replacing them can be very dangerous if you don't know what you're doing. Leave this type of task to our skilled technicians to avoid getting seriously hurt.
Electrical Opener Problems
You may also discover that your door suddenly stops working or starts to reverse seemingly at random because of some type of opener-related problem. Whether it involves the safety sensors or any of the internal components, like the circuit board for example, our experts will be able to resolve the problem quickly and to make sure that your door continues opening and closing reliably.
Emergency Repair Services
While some problems don't require an urgent response, it's always better to get things fixed ASAP in order to keep the issue from exacerbating. Of course, some issues do need to be addressed right away, which is why our team at Garage Door Repair West Saint Paul offers same day services. Give us a call whenever you find something wrong with your door.
Count on us for:

Torsion Spring Adjustment

Opener Sensor Replacement

Overhead Door Repair & Installation

Maintenance Garage Door Torsion Spring