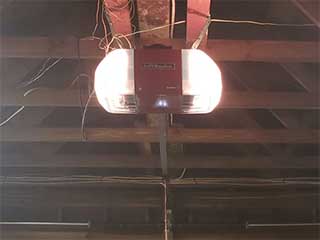 When you give your automatic garage door the command to open, the motor in your opener uses electrical energy to unlock the springs, prompting them to raise your heavy door panels. As a hardworking machine, your opener requires periodic maintenance to continue working efficiently - if something goes significantly wrong, you'll become unable to automatically operate your door.
Maintaining Your Unit
As part of our garage door maintenance appointment service, we'll give your opener a thorough inspection, testing and cleaning. Our team will make sure that the wiring, circuit boards, and trolley cables are all connected properly, free of dirt and rust, and properly insulated to prevent electrical failure. If your opener has been working slower than usual or if its making strange noises, you should schedule a visit sooner rather than later.
Range Of Brands & Models
Our team is familiar with the products of every major manufacturer on the market, including Liftmaster, Genie, and Dalton. Each model of opener has its own quirks and advantages so knowing what kind you have is important when it comes to diagnosing problems. Some more modern openers have built in 'smart' devices which provide a range of automatic options, meaning a potentially more complicated system.
If A Replacement Is Needed
If your opener needs to be replaced our team is the best resource you could ask for. Whenever we make house calls, we bring a wide selection of replacement parts along with us – our technicians will happily provide consultation to help you find the brand and model of opener that best fits your system, desired noise level and price range. If we don't have the opener you want with us at the moment, we'll order it and have it installed for you ASAP.
Contact Us Today
Call us today and tell us about your garage door repair needs. Our team is available seven days a week, anywhere within the limits of West Saint Paul. Give us a ring!
Let our team take care of it for you!

Bottom Seal Rubber

Oil Tempered Torsion Springs

Screw Drive Opener Replacement

Roll up Garage Door Maintenance